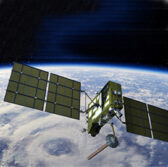 Astroscale and Surrey Satellite Technology have entered into a memorandum of understanding to develop space technologies and pursue launch missions that aim to help protect the orbital environment.
Both companies seek to compete for work within the small satellite and orbital debris removal markets through their strategic cooperation agreement, SSTL said Tuesday.
Astroscale also awarded SSTL a contract of an undisclosed value to provide a target satellite along with avionics technology for the inaugural End-of-Life Service by Astroscale demonstration.
The ELSA-d mission will work to simulate the capture of orbital debris and evaluate the capacities of technology platforms designed for end-of-life spacecraft retrieval and disposal missions.
Nobu Okada, founder and CEO of Astroscale, said that SSTL will serve as a component for the ELSA-d mission and Astroscale anticipates the partnership to be mutually beneficial for both parties.
The partnership also aims to discover debris removal projects and joint offerings that can support small satellite missions in Japan.