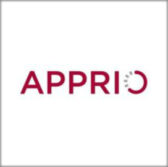 Apprio has received a contract to help transfer the U.S. military's electronic health record system modernization program from a Defense Department office to a Defense Health Agency directorate.
The company said Wednesday it will support the transition of the Military Health System "GENESIS" EHR project to DHA's Health Information Technology Directorate from the DoD's Healthcare Management System Modernization Program Management Office.
Apprio aims to analyze and balance resources between the program offices, formulate sustainment support strategy for the MHS GENESIS transition to a long-term sustainment office and help develop a medical device management plan.
Darryl Britt, president of Apprio, said the company supports federal customers in efforts to modernize their health IT systems and implement EHR platforms.
Britt added the MHS EHR program transition will work to help military agencies integrate workflows and standardize system for healthcare data exchange.
Apprio will perform the work as part of an Intellect Solutions-led team.