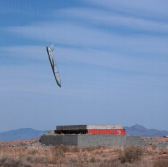 Lockheed Martin has secured a potential $44.1 million contract from the U.S. Air Force to manufacture intelligent test instrumentation kits that will support tests of the Joint Air-to-Surface Standoff Missile system.
JASSM tests will cover telemetry and flight termination assessments and the iTIK units will offer support for various missile programs, Lockheed said Tuesday.
"The new iTIK provides a next generation telemetry kit for both JASSM baseline and Extended Range missiles, as well as the Long Range Anti-Ship Missile," said Kim Oyler, program manager at Lockheed's missiles and fire control business.
Oyler added the kits' electronic components are designed to increase the reliability of previous mechanical configurations.
JASSM's ER configuration features a penetrating blast-fragmentation warhead, infrared seeker and digital anti-jam GPS receivers designed to function in all weather conditions.