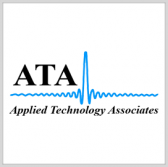 Applied Technology Associates has received a potential $7.9 million U.S. Air Force contract to support a research and development program that seeks to increase the resiliency of space structures.
The company will provide R&D services required by the service branch's integrated structural systems program under the indefinite-delivery/indefinite-quantity contract, the Defense Department said Tuesday.
Work will occur at Kirtland Air Force Base in New Mexico through Dec. 20, 2020.
The Air Force Research Laboratory obligated $86,850 in fiscal 2018 R&D funds at the time of award.