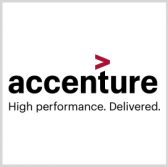 Accenture's federal services business has received a provisional authority-to-operate from the Federal Risk and Authorization Management Program Joint Authorization Board for a platform-as-a-service cloud offering.
The Accenture Insights Platform for Government is a cloud-based tool that works to provide agencies with analytics, data access and visualization functionalities to help accelerate the development and deployment of analytics-driven platforms, the company said Tuesday.
David Moskovitz, CEO of Accenture Federal Services, said the FedRAMP authorization provides the company an opportunity to provide agencies access to an analytics platform designed to transform data into insights.
AIP for Government obtained the moderate-impact level P-ATO status after Coalfire Systems conducted an independent assessment under the FedRAMP Connect program.
FedRAMP Connect seeks to identify cloud-based platforms with government applications for accelerated evaluation and authorization.