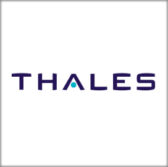 Thales has opened an artificial intelligence research center that aims to integrate AI into systems while providing full authority to human decision-makers and to further the safe and ethical use of AI in the company's product portfolio.
The Center of Research and Technology in Artificial Intelligence eXpertise in Montreal is anticipated to generate 50 new jobs for AI researchers and developers and deliver positive economic impact to Canada, Thales said Tuesday.
The company will operate cortAIx in collaboration with the Montreal Institute for Learning Algorithms, Institute for Data Valorization and Vector Institute and utilize resources at universities and laboratories in Montreal and the rest of Canada.
CortAIx will work to produce AI systems that are targeted toward airlines, satellite operators, air traffic controllers, mainline and light rail operators, critical infrastructure managers and the military.
Thales Chairman and CEO Patrice Caine said the research center will leverage the talent in Montreal to help advance global applications of ethical AI.
The creation of the research center comes on the heels of the company's acquisition of Guavus and Vormetric and the launch of its Paris-based Digital Factory that aims to gather technology experts to advance the merging of big data and AI into the company's services.
The company said it has invested approximately $1.19 billion in key digital technologies over the past three years.