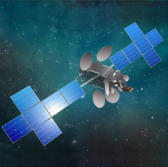 Maxar Technologies' SSL business has received a contract to deliver a communications satellite to Brazil-based Embratel Star One.
SSL said Monday the Star One D2 satellite will work to provide broadband coverage and information services to businesses and clients in Central America, Mexico, South America and other parts of the Atlantic Ocean.
The satellite is based on the SSL 1300Â platform and will be equipped with Ku-, Ka-, C– and X-band payloads designed to deliver telecommunications, internet access and television broadcast services across Latin America.
Dario Zamarian, group president at SSL, said Star One D2 will be the third satellite the company will deliver to Embratel Star One.
The SSL-built Star One D1 satellite took off in 2016 a year after Embratel launched the Star One C4 spacecraft to provide direct-to-home television service in Brazil.
Maxar launched earlier this month after MacDonald, Dettwiler and Associates completed its acquisition of DigitalGlobe.