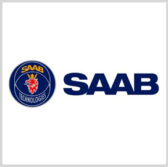 Saab has received a contract worth approximately $18.35 million for the delivery of radar subsystems to be incorporated into air-to-air missiles that MBDA is developing under a European multi-lateral program.
The order covers the delivery of Saab's radar proximity fuze subsystems for integration with Meteor Beyond Visual Range Air-to-Air Missiles through 2021, Saab said Thursday.
Saab's PFS is designed to detect and analyze targets to set the warhead detonation time for optimum effect.
MBDA is the prime contractor for a program between the governments of France, Germany, Italy, Spain, Sweden and the U.K. to produce and field the Meteor BVRAAM system devised for long-range airborne missile counterattacks.
Stefan Oberg, head of Saab Bofors Dynamics' missile systems unit, noted the company's PFS works to support the Meteor's mission needs of maximum warhead effectiveness to combat advanced air threats.
Gorgen Johansson, senior vice president and head of the Bofors Dynamics business, added the company has been involved with the Meteor program since its launch.