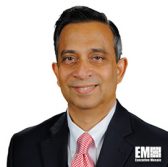 PV Puvvada, president of Unisys' federal business, has urged government agencies to implement cultural transformation efforts to obtain governance, management and technology skills required for digital modernization projects.
Puvvada, an inductee into Executive Mosaic's Wash100 for 2017, wrote in a blog post published Thursday that federal information technology leaders should adopt tested systems, migrate services to a cloud platform and partner with industry as part of efforts to modernize agency IT systems.
He added that Congress launched funding initiatives to aid digital modernization efforts across the government such as the Modernizing Government Technology Act and working capital funds to help agencies plan future IT modernization strategies.
A Unisys-sponsored survey found that 62 percent of 200 federal IT executives cited cybersecurity as the top priority of their agencies' modernization efforts and 59 percent reported such projects led to an increase in security challenges.
Fifty three percent of respondents said IT personnel could not fully support transitions to help their agencies address IT modernization goals.
"These three data points tell us that federal leaders view modernization efforts as key to improving security but that the lack of staff with the right kind of skill sets is hampering them "" thereby exacerbating security concerns," said Puvvada.