ExecutiveBiz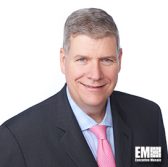 is pleased to name Patrick Friel, Managing Partner at Lochlin Partners, as a recipient of its 2017 Top 10 GovCon Executive Recruiters Award.
For almost 20 years, Friel has provided executive search and leadership advisory services to a broad range of clients. Before joining Lochlin Partners, he served as the Managing Partner of Heidrick & Struggles' Washington office and was a key member of the firm's senior leadership team. Pat began his search career with a boutique firm in Williamsburg, Virginia.
Friel works extensively with clients in government, technology and professional services organizations, trade and membership associations and nonprofits, helping these clients build world-class management teams. Within client organizations, Pat provides particular expertise in recruiting senior executives in the areas of financial management (Chief Financial Officers, Controllers, Tax and Audit leadership) and general management (Chief Executive Officers and General Managers).
[divide]
ExecutiveBiz had the opportunity to catch up with Friel and ask for his perspective on how smaller companies can better compete against larger companies when searching for talent.
ExecutiveBiz:Â What advice would you give the smaller companies who are competing against the larger companies for talent?
Patrick Friel: There has never been a better time to be a smaller company; but that doesn't make competing against the big guys any easier.  Smaller companies that grow need to drive a high level of customer service, be distinct, be nimble and be absolutely committed to exceeding expectations.  This kind of environment requires a workforce that is committed and goes above and beyond.
Playing to your strengths to attract talent is the way to go here.  First, smaller companies need to reward and incentivize employees differently than the big guys to drive the desired behavior.  Creating a strong "pay for performance" environment where employees are rewarded, generously if appropriate, for making an impact gets the attention of great executives.  Ownership opportunities (phantom stock, etc.) are relatively easy to create, align the interests of the employees with the company, and are a big differentiator when compared to the big players in the industry.  Finally, the opportunity to be entrepreneurial and make an impact is far greater in a smaller company than a larger one.  Focus your recruitment efforts on identifying candidates who not only seek but also thrive in this type of work environment.  Finally, don't compromise.  If the talent is close, but not the perfect fit, keep searching.  Taking more time to find the right executive is always far less costly than settling for the wrong one.