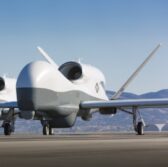 Northrop Grumman has received a one-year, $66.3 million task order to test and maintain MQ-4C Triton unmanned aerial vehicles for the U.S. Navy.
The Defense Department said Thursday Northrop's systems business unit will help the service branch sustain MQ-4Cs along with mission control and operator training systems.
The company will also provide field service representatives to provide technical support for the Navy's future MQ-4C UAVs and ensure the platform will be ready for intelligence, surveillance and reconnaissance missions once it reaches initial operating capability.
Fifty percent of the work will occur in Patuxent River, Maryland, and the remaining 50 percent at various locations in California, Florida and Guam.
The Navy obligated $13 million in fiscal 2017 research, development, test and evaluation; and aircraft procurement funds at the time of award.
DoD said nearly $2.6 million of total obligated funds will expire at the end of the current fiscal year.
Northrop is scheduled to finish work in September 2018.