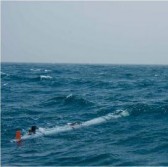 The U.S. Navy has facilitated technology demonstrations of various unmanned systems alongside technology developers from industry and academia during the two-day Advanced Naval Technology Exercise 2017.
The event dubbed "Battlespace Preparation in a Contested Environment" kicked off on Aug. 15  at the Naval Undersea Warfare Center Division Newport in Rhode Island and at the Naval Surface Warfare Center Panama City Division in Florida, the Navy said Wednesday.
ANTX BPCE attracted more than 700 attendees and showcased 11 unmanned aerial vehicles, 9 unmanned surface vehicles, 28 unmanned underwater vehicles and two unmanned ground vehicles.
The event aimed to foster collaborations among companies, academic institutions and Navy warfare centers and program offices.
Multiple companies demonstrated unmanned vehicles and associated technologies including Boeing, General Dynamics' mission systems business, L3 Technologies, Leidos and Northrop Grumman, among others.
NUWC Newport's energy and propulsion branch worked with unmanned technology company Riptide Autonomous Solutions to test a fuel cell-powered micro UUV during ANTX as part of a rapid prototyping partnership.
Jessica Shaffer, NUWC Newport's ANTX technical lead, said the Navy will produce a technical report using data collected through ANTX then follow up with event participants to pursue continued collaboration.
Shaffer added that the ANTX partnerships may lead to acquisition opportunities or further technology development and tests.