Lexmark International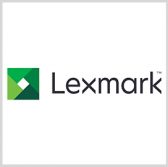 has introduced a technology platform designed to help military organizations automate documentation and information management processes.
Smart Document Capture for Military utilizes Lexmark's multifunction printer technology and process management tools built to automatically classify documents, verify data and perform compliance checks, the company said Monday.
The system is equipped with technology that works to secure data and support public key infrastructure/common access card authentication.
Lexmark designed the platform's screens, features and prompts to align with the Defense Department's information management processes.