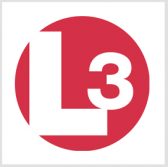 A L3 Technologies business has received a potential five-year, $5.1 million contract to deliver laser rangefinders to the U.S. Navy for integration with the Raytheon-built multispectral targeting system aboard manned and unmanned aircraft, Military & Aerospace Electronics reported Monday.
The sole-source contract awarded to L3's advanced laser systems technology business segment also covers repair services for laser rangefinders.
MST is an electro-optical/infrared platform that works to perform intelligence, surveillance, reconnaissance and targeting functions aboard the service's special projects aircraft and other naval planes as well as on C-130, SH-60 helicopters and Predator drones.
L3's insight technology business in New Hampshire will also perform work on the contract.
Raytheon's family of MST offerings includes AN/DAS-1A, AN/AAS-44C and AN/AAS-52B.