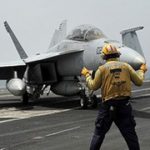 The logistics command of Finland's defense forces has issued a request for information to gather input from industries of seven countries on weapons and equipment for a potential F/A-18 aircraft replacement.
The Finnish defense organization said Thursday it sent the RFI notice to the U.S., France, Germany, Israel, Norway, Sweden and the U.K. as part of Finland's HX Fighter Program.
Finland aims to issue a request for quotations on the program in the spring of 2018 and separately procure aircraft and weapons and equipment.
Five aircraft manufacturers could be selected to compete in the program based on multirole fighter aircraft capabilities, supply chain security, lifecycle costs and defense policy factors, the Finnish defense organization noted.
The Finnish government looks to award contracts in the spring of 2021 to acquire weapons, sensors and other equipment for the country's next fighter aircraft fleet.