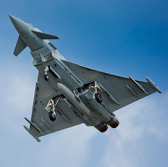 Members of the Eurofighter consortium have committed to aid the establishment of two national innovation centers in Belgium as part of efforts to help boost the country's aeronautical and defense capacities.
The consortium said Saturday Airbus' defense and space business, BAE Systems and Leonardo signed formal endorsements to support the centers alongside France-based missile systems provider MBDA.
The two facilities will be established in Flanders and Wallonia to collaborate with Belgian companies to explore additive manufacturing techniques for the development of aeronautical and defense systems.
Anthony Gregory, campaign director for BAE's Belgian arm, said he believes the centers could support the country's efforts to position its A&D industrial base for future combat aircraft programs in Europe.
The U.K. government backs a European push to offer the Typhoon aircraft offering as a replacement for Belgium's current F-16 fleet, according to the Eurofighter consortium.