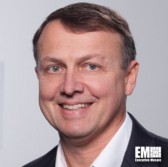 Earl Matthews, vice president of DXC Technology's enterprise security solutions group, has said organizations should adopt a modern mobile strategy that focuses more on end users than the technology itself.
Such a user-centered strategy "requires a different approach to enabling the user with the right information sources, devices, security, connectivity and support," Matthews wrote in an article published Sunday in Signal Magazine.
He cited the demand among users for multiple Wi-Fi-based devices, analytics and optimization tools as they work to research new technology platforms and adopt best practices and discussed how information can be leveraged to facilitate collaboration among teams.
"Employees are increasingly aware of how much data is captured about them when they shop or browse, and they want that same type of intelligence applied to their work environment," he noted.
Matthews also called on mission leaders to establish security best practices for mobile employees through collaboration with IT organizations in an effort to prevent threats to mission assurance, avoid service disruptions and safeguard data privacy.