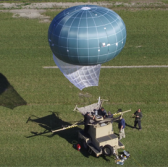 Drone Aviation has received a potential $800,000 order from an unspecified Defense Department client to supply additional units of an updated tactical aerostat platform designed to aid intelligence, surveillance and reconnaissance missions.
The Winch Aerostat Small Platform will support the DoD customer's use of communications, daylight and thermal payload capacities, Drone Aviation said Tuesday.
WASP works to integrate with a fixed, stationary or towed position to facilitate video and wireless communications at an extended range.
"We are pleased to have received this repeat order from our customer, and it is especially notable because it comes as a direct result of the WASP's demonstrated capabilities in the field," said Bruce Hardy, vice president of sales at Drone Aviation.
"With this contract, and others we are looking to secure, we believe Drone Aviation is now entering the next phase of its development, one focused on contract sales," said Jay Nussbaum, chairman and CEO of Drone Aviation.