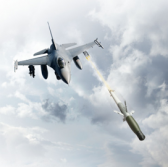 BAE Systems' U.S. subsidiary has received a $59.5 million contract from the U.S. Navy to supply guidance kits designed to transform unguided 2.75-inch rockets into laser-guided weapons.
The company said Tuesday it will deliver its Advanced Precision Kill Weapon System guidance kits to meet the demand of U.S. military and allied foreign customers.
The new deal follows a $180.5 million award that BAE Systems Inc. secured in June, and is part of a $600 million indefinite-delivery/indefinite-quantity contract that BAE received in 2016 to produce laser-guided rockets.
APKWS rockets are designed to engage armored targets in confined areas; reduce collateral damage; and support deployment aboard various fixed- and rotary-wing aircraft.
BAE rolled out its 10,000th APKWS guidance unit in July and the company continues to invest in precision guidance manufacturing facilities across New Hampshire and Texas in a push to produce more than 20,000 units annually.