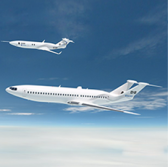 Aurora Flight Sciences has received a 12-month contract to further develop a subsonic aircraft technology as part of a NASA program that aims to increase fuel and operational efficiency and reduce noise of commercial planes.
The company said Tuesday it will continue to work with Pratt & Whitney and the Massachusetts Institute of Technology to advance the D8 X-Plane concept through NASA's New Aviation Horizons X-Plane Initiative.
The team aims to design a transonic wind tunnel test for Xd8 aerodynamics, a transonic Boundary Layer Ingesting fan test for the BLI propulsion system and a large-scale test article for the complex propulsion-airframe structure.
Aurora derived its D8 commercial aircraft concept from the company's previous work under the space agency's N+3 Program.
D8 underwent two wind tunnel test campaigns and XD8 completed system requirements and concept design assessments, the company noted.
The Defense Advanced Research Projects Agency awarded Aurora an $89.4 million contract in March last year to help DARPA develop an unmanned vertical-takeoff-and-landing aircraft under the VTOL X-Plane program.