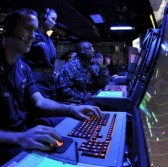 The U.S. Army has issued a special notice inviting non-members to join the Vehicular Integration for Command, Control, Communications, Computers, Intelligence, Surveillance and Reconnaissance/Electronic Warfare interoperability program.
According to a notice published Tuesday on the FedBizOpps website, the initial set of VICTORY standard specifications have started to be implemented on commercial vendors, U.S. Army and Marine Corps systems.
The VICTORY standards body, which includes industry and government members, urge more federal government and defense-industry organizations to join the open standards development of the specifications.
The recruitment of additional members for the standards body will provide foreknowledge of future specifications and creates an opportunity to support the technical development of VICTORY specifications.
Army ground vehicle and mission equipment program executive officers have implemented policies that require the use of VICTORY standard specifications.
A set of VICTORY-enabled systems have also demonstrated a capacity to boost operational effectiveness and efficiency at the Network Integration Experiment 15.2 event.
The VICTORY standards body will host a face-to-face technical interchange meeting on Dec. 13 and 14 in Warren, Michigan to perform working group discussions, engage industry partners and government agencies as well as update participants on Army programs that implement VICTORY standard specifications.