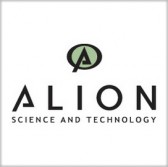 Alion Science and Technology has received a potential five-year, $41.4 million contract from the Space and Naval Warfare Systems Center Pacific to support training for U.S. Navy tactical afloat shipboard, ashore and submarine systems.
The company said Thursday it aims to support command, control, communications, computers, intelligence, surveillance and reconnaissance platforms installed on naval ships and at ground facilities under the multiple-award, indefinite-delivery/indefinite-quantity contract.
Alion Science is one of four companies that will vie for task orders to help the Navy develop, implement and install C4ISR training equipment.
"As the Navy continues its commitment to readiness through training, we are honored to extend our partnership into an additional area of Sailor training, using a similar rapid prototyping and immersive approach," said Gerry Decker, Alion Science chief growth officer.
The company seeks to create a learning environment for the service branch that will feature emerging technologies such as adaptive learning, mobile, modeling and simulation systems.