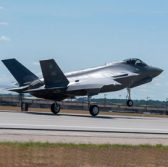 F-35 pilots from the U.K. air and naval forces have collaborated with fighter jet pilots from Italy and the Netherlands to participate in F-35 coalition interoperability tests conducted at a BAE Systems-operated simulation facility in Samlesbury, England.
The tests are part of a series of simulation exercises designed to assess the interoperability of the fighter aircraft with other U.K. military platforms across air, land and maritime domains, BAE said Tuesday.
Those platforms include intelligence, surveillance and reconnaissance tools as well as command-and-control systems.
During the test, F-35 pilots used desktop simulators from Lockheed Martin to operate the aircraft and a joint terminal attack controller asked for close air support after it detected ground-based threats.
The U.K. navy"™s Sea King aircrew provided C2 capabilities to F-35 pilots to offer close air support to coalition forces after they received CAS request from JTAC through an air support operations center.
BAE's simulation facility used in the interoperability exercise features helmet mounted displays, a briefing room and mission control and planning rooms for operations support personnel and aircrew.
Tony Hall, F-35 program manager for the interoperability trials at BAE, said the interoperability trial marks the first time pilots used the aircraft"™s Variable Message Format datalink to facilitate the "digitally aided CAS" mission.
Hall added the exercise seeks to help the U.K. establish an initial operating capability baseline with F-35 partner countries as well as develop common tactics, techniques and procedures and coalition concept of operations.