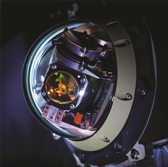 A partnership of Leonardo and Thales has received a contract from the U.K. defence ministry to demonstrate their combined missile threat warning and protection system in early 2018.
The joint platform is currently under development to integrate Thales' Elix-IR threat warner with Leonardo's Miysis directed infrared countermeasure system, Leonardo said Wednesday.
Elix-IR will work to detect, track and classify potential enemy missiles then send alerts to Miysis, which will subsequently use high-energy laser to disrupt missile threats.
The integrated system will be built to protect a range of military and civilian platforms, such as small helicopters and  large troop transport vehicles.
The British defense ministry's defense science and technology laboratory will fund the laboratory and field trials of the protection system as well as efforts to evaluate its use aboard U.K.'s existing and future air systems.
Leonardo and Thales will continue to sell the systems separately and will jointly offer the combined platform to international customers.