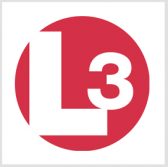 L3 Technologies has transferred the third and last RC-135V/W Rivet Joint signals intelligence aircraft to the U.K. air force.
The RJ aircraft is designed to provide intelligence, surveillance and reconnaissance support for global security missions as part of the U.S.-U.K. Airseeker program, L3 said said Wednesday.
U.K. procured three KC-135R tankers for conversion by L3 to RC-135V/W aircraft through an approximately $1 billion foreign military sales deal with the U.S. government.
Christopher Kubasik, L3 president and chief operating officer, said the Airseeker platform will help U.K. forces conduct near-real time and on-scene intelligence collection, analysis and dissemination.
L3 separately delivered the first two U.K. RJ aircraft in 2013 and 2015.
The company will also carry out baseline upgrades and periodic depot maintenance on the RJ fleets of the U.K. and U.S., which include 20 planes in total.