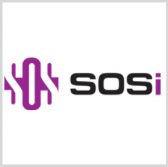 SOS International has received a task order under to continue to support integrated joint force field and live-fly training of U.S. air forces deployed to Africa.
The task order falls under the U.S. Air Forces in Europe Advisory and Assistance III contract, SOSi said Friday.
"SOSi has worked alongside the Air Force in support of NATO and our African allies on the combined mission to ensure global stability and peace within the region," SOSi CEO Julian Setian.
Setian added the company has also provided intelligence, surveillance, reconnaissance, intelligence analysis, exercise planning, data center consolidation and information technology services to the U.S. Air Force through the A&AS III contract.
USAFE-AFAFRICA manages air and space operations of more than 35,000 military and civilian personnel across the two continents.