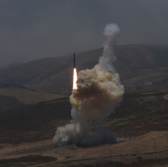 Science Applications International Corp. has secured a $34.6 million contract to help the Missile Defense Agency further develop an analysis technology to support modeling of the Ballistic Missile Defense System's expected performance.
The Defense Department said Monday SAIC will support analysis efforts by the MDA director for engineering's quick reaction team and the agency's BMDS research, development and testing activities.
SAIC's analytical support services will also contribute to the development of products for MDA, the National Command Authority, Congress and combatant commands.
Deliverables under the contract include concept explorations, data inputs, predictive analysis, technical reports and trade studies.
MDA will obligate $500,000 in fiscal 2017 research, development, test and evaluation funds to incrementally fund the basic contract.
The company will perform work in Alabama, Florida, New York and Virginia through September 2022.