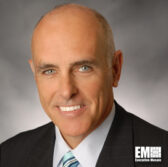 A Red Hat–Kryptowire team has received a contract from the Department of Homeland Security to develop methods to automate compliance of mobile applications with government security and privacy standards.
Both companies aim to create a framework for security and privacy compliance automation in the mobile app life cycle as part of the Mobile Application Security project managed by DHS' science and technology directorate, Red Hat said Wednesday.
"Mobile devices — including smartphones and tablets — are used across government agencies, but these devices and the mobile apps that run on them require a unique approach to security," said Paul Smith, senior vice president and general manager of Red Hat's public sector business.
Smith, an inductee into Executive Mosaic's Wash100 for 2017, added the project seeks to deliver an automated mobile security approach that can serve as a best practice across the U.S. government and address human error during app releases.
Red Hat plans to integrate its Mobile Application Platform extension with Kryptowire's testing tools to automatically check the security compliance of mobile apps during the development process.
The team also aims to create security updates and notifications to help mitigate new security or privacy threats that may impact deployed apps.
The partnership will update Kryptowire's mobile app certification system for Red Hat's Mobile Application Platform in an effort to produce a commercial mobile security tool for DHS and other government agencies.