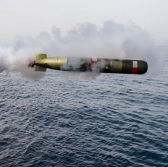 Raytheon's integrated defense systems unit will deliver Mk 54 lightweight torpedo common parts kits to the U.S. Navy and U.K. and Thailand under a $35 million contract modification.
The Defense Department said Wednesday the modification also covers Mk 54 Mod 0 lightweight torpedo kits, exercise fuel tanks, spares, production support material and various related engineering and hardware repair services.
Mk 54 kits will include an intertial measurement unit, the control group assembly, warshot fuel tank, afterbody upgrade components and associated cables.
The company will also supply an MK 54 Mod 0 processor group assembly and a W4 cable for the Mod 0 lightweight torpedo.
The Navy obligated the full amount at the time of modification award from its fiscal 2016 and 2017 weapons procurement funds and foreign military sales funds.
Work under the modification will occur in Massachusetts, Rhode Island and Washington through November 2020.