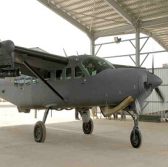 The U.S. Air Force has awarded Orbital ATK a potential $69.4 million contract to provide AC-208 armed intelligence, surveillance and reconnaissance aircraft to Afghanistan's air force.
The Defense Department said Friday the undefinitized contractual action will help fulfill a pseudo-foreign military sales requirement and that the obligated amount of $34 million is from fiscal Afghan security forces funds.
AC-208 Combat Caravan aircraft support counterinsurgency and ISR missions with the help of integrated targeting and fire control systems, off-board data links, very high frequency/ultra high frequency communications technology, cockpit tactical displays and other equipment.
Orbital ATK will perform contract work in Fort Worth, Texas, through Nov. 30, 2018.