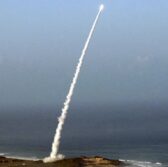 The U.S. Navy has performed a simultaneous air and ballistic missile defense flight test with a Raytheon-made air and missile defense radar off the coast of Hawaii on Thursday.
The AN/SPY-6(V) radar worked to detect and track a short-range ballistic missile target and multiple air-to-surface cruise missile targets during the test, the Navy said Friday.
The demonstration dubbed Vigilant Talon is the third ballistic missile defense flight test involving the AN/SPY-6(V) AMDR.
Raytheon won a potential $1.6 billion contract in 2013 to produce AMDRs designed to help track and defeat threats aboard the Navy's Flight III Arleigh Burke-class guided missile destroyers.
Capt. Seiko Okano, major program manager for above water sensors at the Navy's program executive office for integrated warfare systems, said AN/SPY-6(V) is on track for installation on the first Flight III destroyer.
PEO IWS officials will continue to assess the radar's performance based on telemetry and other data from the test.