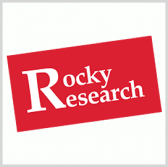 Rocky Research has landed a five-year, $49.1 million contract to supply the U.S. Navy with navigation and ship control system hardware components.
The company will perform contract work in Huntsville, Alabama through September 2022, the Defense Department said Tuesday.
The Naval Surface Warfare Center Philadelphia Division is the contracting office and will obligate $137,559 at the time of award from the service branch's fiscal 2017 "other" procurement and operations and maintenance funds.
Rocky Research conducts thermal equipment development, assembly and testing efforts at its headquarters in Boulder City, Nevada.
The company's Alabama facility produces and integrates electronic technology for defense, industrial and  commercial applications.