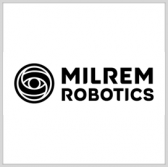 Milrem Robotics has announced plans to develop robotic systems as part of efforts to help increase warfighters' situational awareness capacity when they perform defense missions.
The company said Tuesday it aims to expand the features of its THeMIS unmanned ground vehicle and create new robotic concepts such as Titan Sentry that will be on display at the 2017 Defense and Security Equipment International event in London.
"Remotely controlled robotic systems that keep our soldiers in a safe distance are crucial to the next generation of battlefield effects," said Kuldar Vaarsi, CEO of Milrem Robotics.
Milrem and QinetiQ jointly developed the Titan Sentry concept that integrates the THeMIS vehicle and a suite of sensors built to provide cognitive capacities for warfighters with the combination of sensor data and battlespace management systems.
Estonia-based UAV manufacturer Eli also partnered with Milrem to incorporate the THeMIS and aerial drone features into an unmanned system.