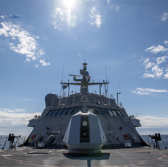 An alliance between Lockheed Martin and Fincantieri Marinette Marine has helped the U.S. Navy Board of Inspection and Survey perform acceptance trials on the service branch's future Freedom-variant littoral combat ship.
Lockheed said Thursday that USS Little Rock, the Navy's fifth Freedom-class LCS, completed the five-day trials in port and at sea to demonstrate its ship handling, auxiliary system and propulsion plant performance and capacities.
The future USS Little Rock, dubbed as LCS 9, will be the second Navy ship to bear the name of the city in Arkansas.
Joe DePietro, vice president of small surface combatants and ship systems at Lockheed Martin, said that the company has worked to advance the Freedom-variant LCS vessels' performance and the latest trial represents the efforts of all members of the Freedom-class LCS developer team.
Members of the Freedom-variant LCS team include Lockheed, Fincantieri Marinette Marine, Gibbs & Cox and approximately 800 other suppliers from across 42 states.