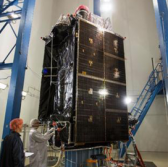 Lockheed Martin has completed a launch simulation test on the second GPS III satellite that the company built for the U.S. Air Force.
Lockheed said Tuesday the GPS III SV02 satellite was hit with a 140-decibel sound during the acoustic test to simulate launch conditions and identify parts that were not properly attached.
GPS III SV02 is part of the Air Force's next generation of GPS satellites designed to provide optimized accuracy and anti-jamming functions over current platforms.
The satellite will undergo thermal vacuum test later this year and will be delivered to the Air Force in early 2018, Lockheed noted.
Lockheed is contracted to produce 10 GPS III satellites for the military branch, with the first spacecraft scheduled for launch next year.