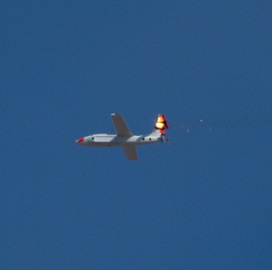 Lockheed Martin and the U.S. Army have demonstrated a prototype laser weapon system equipped with sensors, software and specialized optics built to engage adversarial unmanned aerial vehicles.
The Advanced Test High Energy Asset system worked to eliminate five Outlaw unmanned aerial systems during a test that took place at White Sands Missile Range in New Mexico, Lockheed said Wednesday.
ATHENA's features include advanced beam control and fiber laser technologies along with the Accelerated Laser Demonstration Initiative system and a compact Rolls-Royce turbo generator.
"The tests at White Sands against aerial targets validated our lethality models and replicated the results we've seen against static targets at our own test range," said Keoki Jackson, Lockheed chief technology officer.
Lockheed and the Army will perform post mission review using data from the testing event as part of efforts to increase the system's capacities and model predictions.