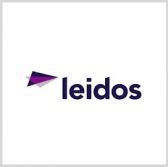 Leidos has won a potential $47.6 million contract from the U.S. Air Force to research and develop integrated electro-optical imaging technology prototypes.
The Defense Department said Thursday the project aims to evolve and increase the capacity of emerging high-resolution and hyperspectral imaging; infrared search and track; and sense and avoid technologies.
The Air Force Research Laboratory received five bids for the indefinite-delivery/indefinite-quantity contract and the service branch will obligate $336,000 in fiscal 2017 research and development funds at the time of award.
Leidos will perform work at Wright-Patterson Air Force Base in Ohio through Dec. 30, 2024.
The company also received a potential five-year, $23.5 million contract to help the Air Force develop and demonstrate integrated threat warning prototypes.