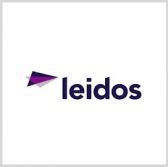 Leidos has won a potential five-year, $23.5 million contract to help the U.S. Air Force develop integrated threat warning systems.
The Defense Department said Friday Leidos will research, build and demonstrate integrated threat warning platform prototypes as well as advance electro-optical test and developmental risk reduction measures.
Work will occur at Wright-Patterson Air Force Base in Ohio through Sept. 16, 2022.
The Air Force Research Laboratory received one offer for the cost-plus-fixed-fee contract through a competitive procurement and will obligate $1,027,000 in fiscal 2017 research and development funds at the time of award.