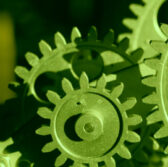 The Defense Department wants industry to voluntary share information on potential weaknesses in its supply chain as part of a review led by DoD, Defense News reported Thursday.
President Donald Trump signed in July an executive order that calls for a cross-government evaluation of U.S. manufacturers"™ capacity to support the defense industrial base.
John McGinn, acting deputy assistant defense secretary for defense, manufacturing and industrial base policy, said Wednesday at a Heritage Foundation-hosted event the new initiative seeks to assess how various scenarios would affect DoD in the event of an industrial base crisis.
"We"™re looking for industrial base risks, and those risks include foreign dependency, sole source, single source, fragile suppliers, suppliers that may not be looking to stay in the market," McGinn said.
He said the Pentagon will conduct the review to determine "how the industrial base will be stressed, could be stressed under specific operations" and will make the study"™s findings classified with a plan to release a non-classified summary.
"We"™re finalizing a very targeted request, and it"™s a voluntary request where we give industry an opportunity to provide some information to help us do this analysis," McGinn added.