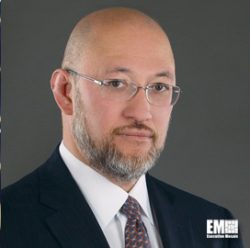 As defense budget dollars continue to be treated like a precious metal, there is an increased importance placed on additional capabilities, the development of new technologies and an efficient acquisition system that benefits all the players involved. Sitting around this table discussing the past 20-30 years of acquisition reform is none other than the magnanimous Pierre Chao, founding partner of Renaissance Strategic Advisors, co-founder at Enlightenment Capital and senior associate at the Center for Strategic and International Studies.
A 2017 Wash100 inductee for his prowess in GovCon Investment Leadership, Chao holds more than three decades of experience in management consulting, investment banking and policy expertise in the aerospace, defense and energy industries.
Under his wing, Enlightenment has invested in 11 firms across the board including Aurora Flight Sciences and Gleason Research Associates.
On investors in the defense market during a Center for Strategic and International Studies-hosted forum last year, Chao offered some sage advice on how contractors can find a return on their investment.
"If you provide the right tipping point types of incentives, you will get companies to share and innovate on the process side," said Chao.
A human first and humanitarian second, Chao looks toward the future of the market, making a point that "the next great frontier in power systems will be the increasing demand for energy that is efficient and bountiful" at the closing session of AIAA Propulsion and Energy 2016.
"1.9 billion people around the world do not have access to electricity," he said. "If the industry could solve the electricity access and distribution logistics, it could help solve issues like global poverty and labor migration–There is no difference between finding reliable energy systems for Mars exploration and finding systems for a village in Mali trying to survive."
Chao has both eyes focused on national security, noting that predicting the next world threat is "as easy as looking for needles in haystacks."
"It's more like looking for the tube of straw that will become needles," he says, with a nod to nations like Venezuela, North Korea and Iran as potential hazard zones.
Over the course of his career, Chao and his team were ranked #1 by Institutional Investor every year eligible, finding a spot on the Institutional Investor All-America Research team every year eligible. He has actively participated in 31 landmark aerospace/defense equity offerings/IPOs raising ~$11.7 billion and many M&A clauses. He is also a guest lecturer at the National Defense University and the Defense Acquisition University, rightly so after receiving dual Bachelor of Science degrees in Political Science and Management Science from M.I.T.