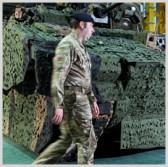 General Dynamics' land systems unit in the U.K. has conducted manned live-fire trials for its armored vehicle program using CTA International-built weapons including a 40mm autocannon, chain gun and smoke grenade launchers, UPI reported Friday.
The company will continue to perform testing activities on the Ajax armored vehicles which will range from static firing on immobile point targets to intercept missions on moving targets.
Kevin Connell, vice president of General Dynamics Land Systems U.K., said the CT40 cannon manned industry firing phase will build on the company's efforts on the Ajax program.
Connell noted that the CT40 autocannon will work alongside Ajax's range of sensors to provide capacities for the U.K. army.
The testing activities will be performed in West Wales throughout a five-month period.