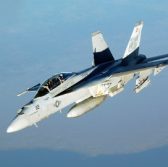 The U.S. Navy has awarded Boeing a $42 million contract modification for efforts to extend the service life of F/A-18E/F Super Hornet fighter aircraft.
The Defense Department said Tuesday the modification provides additional funds for the Super Hornet Service Life Assessment Program and Service Life Extension Program, which aim to lengthen the fighter aircraft's operations beyond its original service life of 6,000 flight hours.
Boeing secured a $49.8 million contract in April to support the Navy's SLAP and SLEP initiatives.
The company will perform work in St. Louis, Missouri; and El Segundo, California through April 2021.
The Naval Air Systems Command will obligate funds on individual task orders.