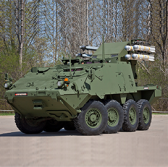 The U.S. Army has kicked off a demonstration of short-range air defense systems that could potentially address the gap in the service branch's SHORAD capabilities, Military Times reported.
The report said the SHORAD demonstration began on Sept. 4 at the White Sands Missile Range in New Mexico and will run until Sept. 16 to give industry teams an opportunity to showcase SHORAD systems that can be deployed in the near term.
Israel's Iron Dome platform will conduct its first intercept test in U.S. during the event and will participate in a shoot-off against three other SHORAD systems, including an offering from a team of Boeing and General Dynamics.
In August, Boeing and General Dynamics' land systems business unit introduced the Manuever SHORAD Launcher Stryker system that consists of an upgraded Avenger air defense platform mounted on a reconfigured Stryker armored vehicle.
The U.S.-funded Iron Dome system is developed by state-owned Israeli company Rafael and supported by U.S. defense contractor Raytheon.
Industry sources say Iron Dome will become a completely U.S.-owned system — with Raytheon as prime contractor and Rafael as subcontractor — if the Army picks the platform, the report stated.