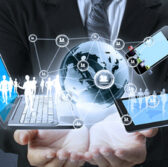 The Department of Veterans Affairs has released a request for information on potential contractors that can support the development of a mobile cloud services infrastructure for VA.
A FedBizOpps notice posted Tuesday says the VA MCS system will replace the department"™s mobile infrastructure services platform that works to facilitate common controls sharing and management across several applications and enclaves.
The current VA MIS platform is hosted by Booz Allen Hamilton and Terremark.
Potential contractors should develop and provide operations and maintenance support to the VA MCS platform as well as related cloud enclaves, mobile application environments and infrastructure software, according to the performance work statement.
VA also requires potential vendors to test enclaves, namespaces and related capabilities to facilitate the migration of mobile apps and other services to the MCS platform by Sept. 1, 2018, as well as propose to use one of the two cloud service providers from the agency"™s enterprise cloud certified under the Federal Risk and Authorization Management Program.
Other requirements include the development of a contractor project management plan, bi-weekly status reports and staffing plan as well as the establishment of a base container orchestration platform and a mobile framework.
The VA MCS program has a base period of one year and two option years.
Responses to the RFI are due Aug. 15, according to the notice.