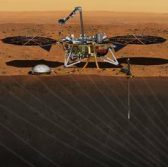 Lockheed Martin has resumed testing and assembly work on a spacecraft at its Denver, Colorado-based facility in preparation for NASA's upcoming Mars mission that seeks to explore the red planet's deep interior.
The Lockheed-built Interior Exploration using Seismic Investigations, Geodesy and Heat Transport lander is scheduled to launch on May 5, 2018, from Vandenberg Air Force Base in California and is expected to reach the planet by late November 2018, NASA said Monday.
"Our team resumed system-level integration and test activities last month," said Stu Spath, spacecraft program manager at Lockheed.
"The lander is completed and instruments have been integrated onto it so that we can complete the final spacecraft testing including acoustics, instrument deployments and thermal balance tests."
Instruments that will fly aboard the InSight spacecraft include a seismometer from France-based CNES and a heat probe from Germany-based aerospace center DLR.
NASA postponed the InSight mission in March 2016 due to a leak in the lander's metal container that works to keep near-vacuum environment around the seismometer's sensors.
NASA's Jet Propulsion Laboratory oversees the InSight program for the agency's science mission directorate as part of the Discovery Program.