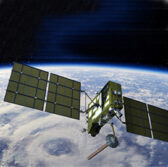 Mike Gold, vice president of operations at Space Systems Loral, has said he believes public and private sector organizations should collaborate in efforts to strengthen the cybersecurity and encryption capacity of U.S. satellites, Washington Examiner reported Thursday.
"In terms of encryption, one of the issues — and really opportunities — is to ensure that encryption standards on commercial satellites are on par with what is necessary to be able to accommodate any future threats," Gold told Washington Examiner.
He added that satellite encryption is one potential area for collaboration between companies and the Defense Department.
Gold also said he forecasts that future satellite maintenance efforts will involve the use of robotic servicing vehicles designed to repair, refuel and replace various components of satellites in orbit.