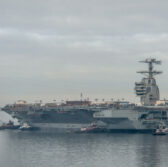 Sabre Systems has helped the U.S. Navy perform the first arrested aircraft landing and electromagnetic launch aboard the USS Gerald R. Ford aircraft carrier.
The company said an F/A-18F Super Hornet aircraft landed on USS Gerald Ford using the Advanced Arresting Gear system and subsequently launched from the flight deck through the ship's Electromagnetic Launch System.
Sabre engineers and technical experts assisted the Navy's ship integration and testing teams for the General Atomics-made AAG and EMALS platforms.
AAG is a software-controlled system that works to provide deceleration support during aircraft recovery operations while EMALS is designed to replace steam catapults currently installed on the Navy's carriers.
Warrington, Pennsylvania-based Sabre offers cyber, information technology, software development, systems engineering/integration and program acquisition management support.