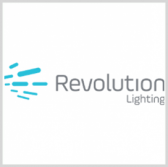 Revolution Lighting Technologies has been selected by the Defense Logistics Agency  to produce 2,300 military standard light-emitting diode tubes for the U.S. Navy.
The company said Thursday it will supply the service branch with T8 LED tubes designed with Buy American Act- and Trade Agreements Act-compliant components.
The Navy certified the T8 LED tube's compliance with the military standard as well as its capacity to support the naval fleet in April after engineers tested the product against Navy guidelines.
"We are excited and honored to be awarded this contract from the DoD to provide our industry leading, BAA-compliant LED technologies to the U.S. Navy," said Robert LaPenta, CEO and chairman of Revolution Lighting.
"We have continued to experience increased demand throughout the federal and military sectors for our LED technologies and believe that this award will help to enable us to secure larger opportunities with both the U.S. Navy and other international fleets in the future."