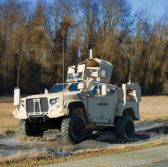 The U.S. Air Force plans to replace its fleet of 3,270 Humvee vehicles with the Oshkosh-built Joint Light Tactical Vehicle, Defense News reported.
Laura McAndrews, an Air Force spokeswoman, told Defense News that the service branch is currently developing a fleet management strategy to determine when and how to acquire additional JLTVs.
The Air Force's fiscal year 2018 budget request includes $52.5 million for the military branch's first 140 JLTVs including 46 utility variants, 48 general-purpose variants and 46 heavy-gun carrier variants.
McAndrews said the Air Force did not facilitate independent JLTV tests because the military branch relies on the U.S. Army and Marine Corps' tactical vehicle expertise.
The Army and Marine Corps aim to purchase 49,099 and 5,500 vehicles, respectively, under a potential $6.7 billion JLTV contract that was awarded to Oshkosh in 2015.