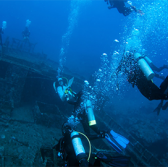 QinetiQ North America has demonstrated a full-duplex communications system built to receive and transmit undersea acoustic data.
QinetiQ NA said Tuesday it collaborated with Optimal Systems Laboratory to develop the Dolphin underwater platform equipped with patented cancellation technology in an effort to help U.S. Navy and commercial clients address wireless communications challenges.
Dolphin is designed to increase the performance of acoustic data transfers and integrate with unmanned underwater vehicles, submarines or ships.
The platform also works to support low-power communications and multi-component control networks for mobile and fixed assets under the ocean.
QinetiQ showcased Dolphin at the Advanced Navy Technology Exercise that was held Aug. 15 and 16 in Florida.